Biodiversity in the Anthropocene
Pre COP27 &15 briefing seminar
Science Museum, London
5 September 2022
It's a privilege.
A couple of confessions…
I told my dad a few weeks ago that I was worried I might mess this speech up. He told me I should start the speech with "I'm worried I'm going to mess this up". So here's to you, Dad.
I'm no climate scientist or policymaker.
I come to you as an explorer, a photographer and a lover.
You see I have loved animals and forests and seas for as long as I can remember.
I grew up on David Attenborough, on Cousteau and National Geographic.
I dreamt of seeing the Amazon, the Serengeti,
dolphins, sharks,
coral reefs.
This is all deeply personal to me
You see I have been to Manaus in the Amazon, to Kalimantan in Indonesia,
to Moorea and to the Maldives…
I've climbed up part of a mountain in the Pamirs. Flown over Mount Kilimanjaro.
I held a clouded leopard cub and a baby gorilla called Bamilla at John Aspinall's. Sat with baby elephants and an orphaned rhino at Sheldrick. Played and held hands with an orangutan at Sepilok.
Looked for red-eyed tree frogs at night in Costa Rica and poison arrow frogs in the daytime. Cupped tadpoles in a puddle in my hand.
I've been blessed to photograph elephants and rhinos, elands and rainforests, snakes and swamps.
Had a humpback whale mum stare me in the eye and peer into my soul. A sperm whale calf wait for me at the surface and maintain eye contact as it sank down a few meters and settled there. An oceanic manta ray played with me for half an hour, repeatedly twisting towards me to show off its belly.
Hawksbill and green turtles have allowed me to swim with them for 45 minutes to an hour.
I've been in the water with oceanic whitetip sharks and schools of hammerheads
So lucky that I got to Raja Ampat, one of the 2 most biodiverse places underwater on the planet – with 2300 species.
Events like these CHANGE you.
But having witnessed all these things and been privileged to live so many of my dreams … it all just feels like the last hurrah now.
6 out of 7 sea turtle species are in danger, hawksbills critical. An African elephant is killed every 17 minutes; there may be none left by 2040.
Orangutans are barely holding on as we destroy their habitat like monsters – as we're doing to so very many other species. They'll be the first great apes to abandon us.
One subspecies of rhinoceros is just GONE. Another might as well be.
Even giraffes are endangered. Could you have imagined that a couple of decades ago?
Koalas were disappearing well before the fires ravaged their territory.
Oceanic whitetips, once some of the most common large animals in the world, are down 97 to 99 percent. The gigantic schools of hammerheads in the sea of Cortez you and I saw in books and on tv when we were younger are no more.
You might see a large-ish school here and there in Cocos or the Galapagos but the days of abundance have largely passed.
Speaking of photographs: if you were to see pictures of the reef in Moorea fifteen years ago you'd be filled with wonder. What I saw there in 2019 was horrific in comparison.
The same thing with 5 trips to the Maldives between 1989 and 2015. The coral and diversity have just continually degraded.
Sometimes I wish I just read about these things in the morning papers – like most people do.
But this is tangible, not tangential, to me.
And now when wildlife photographers, scientists and conservationists do see large numbers or rare species and have fantastic encounters they have to wonder: will this ever happen again? Will this species survive the next 15 years? 10 years? 5?
Will this country still be above water?
Will any reefs still be alive to support a quarter of all marine species?
The thing I find MOST amazing is that we've done all this damage, engendered such harm, mostly BEFORE our climate was in crisis. Sixty eight percent of our wildlife lost in just 40 years.
We were murderers long before we realized we're also suicidal.
As Jane Goodall says: The most intelligent species to walk the planet and yet the only one dumb enough to destroy its own habitat.
We've known about the climate problem, the science has been there for DECADES…
And we know what to do to slow down the consequences. Yet some of the most powerful people are still reversing dozens of environmental regulations, polluting rivers with mining chemicals, and encouraging trophy hunting
while others treat deforesting the lungs of our planet like it's Christmas shopping, like I devour chocolate at Easter.
Turning two blind eyes to climate.
We're looking at extraction in Botswana, deep sea mining, opening up the Arctic refuge.
We're still not driving all electric. We still fly.
We speak of offsetting and we come up with new supposed tipping points every couple of years and overshoot them every time.
We've only protected 7 percent of our oceans and 14% of our land.
The UN can't successfully protect biodiversity in our seas. The global deforestation rate is 10 million hectares per year. A football field every 2.3 seconds
Thankfully there are success stories. Like the humpback whale population bouncing back after whaling reduced their numbers by 90%.
Tiger numbers are increasing.
Sea turtles do quite well when conservation measures are sustained.
And the Southern White Rhino recovered from fewer than 100 individuals to around 20,000.
But what happens If things get much worse?
Can you imagine the Amazon becoming an emitter?
What happens when the world burns?
Some estimates indicate that half of all species on Earth will be lost in the next 100 years.
That we've pushed extinction rates to 100 times what they were in pre-industrial times.
If we stay on our present course it will be more than just "bye-bye polar bear", "the jaguar's habitat is shrinking",
"what happened to koalas?" and "why does my air conditioner seem ineffective?"
And we are the LUCKY ONES.
It's well-known in disaster risk reduction circles, including at the Aga Khan Development Network, that one dollar spent on disaster preparedness saves 7 dollars on response.
Everybody in this room knows what's going on – most of you better in fact than the rest of the world.
So I ask you: do we think we can find the intelligence, muster the bravery, and bolster political will enough to positively change the climate?
Might we move past this un-brave new world we've created,
turn a last hurrah into some big hoorays
and at least try to prove Doctor Jane Goodall wrong?
Nature and I would like to think so.
▶ SCIENCE MUSEUM GROUP ARTICLE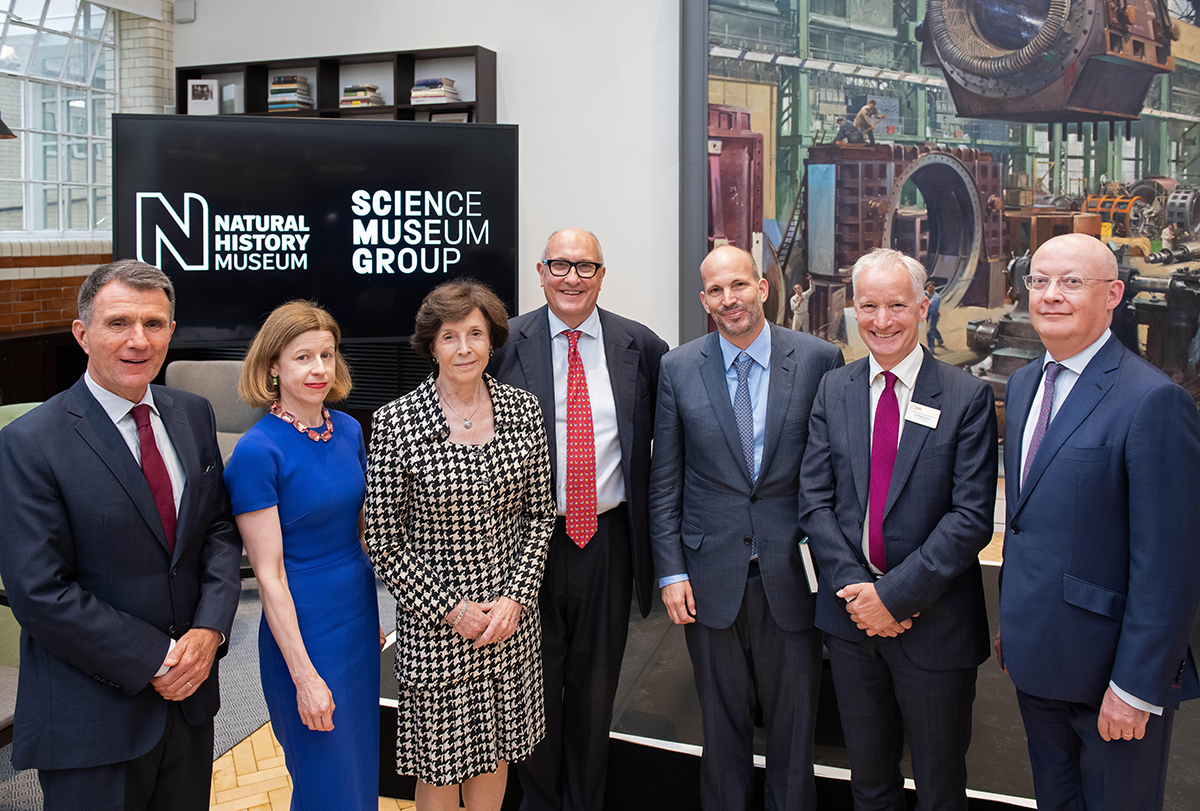 L-r: David Shukman, journalist and former Science Editor BBC News; Dr Julia Knights, Deputy Director, Science Museum; Dame Mary Archer, Chair of the Science Museum Group Board of Trustees; Roger Highfield, Science Director, Science Museum Group; Prince Hussain Aga Khan; Dr Doug Gurr, Director Natural History Museum; and Sir Ian Blatchford, Director and Chief Executive, Science Museum Group.